Why Workplace Checkin?
A complete Human Resource Management Solution which is especially designed for your business to save time, cost and boost productivity. Workplace Checkin automates your HR and allows you to manage everything with just a single click.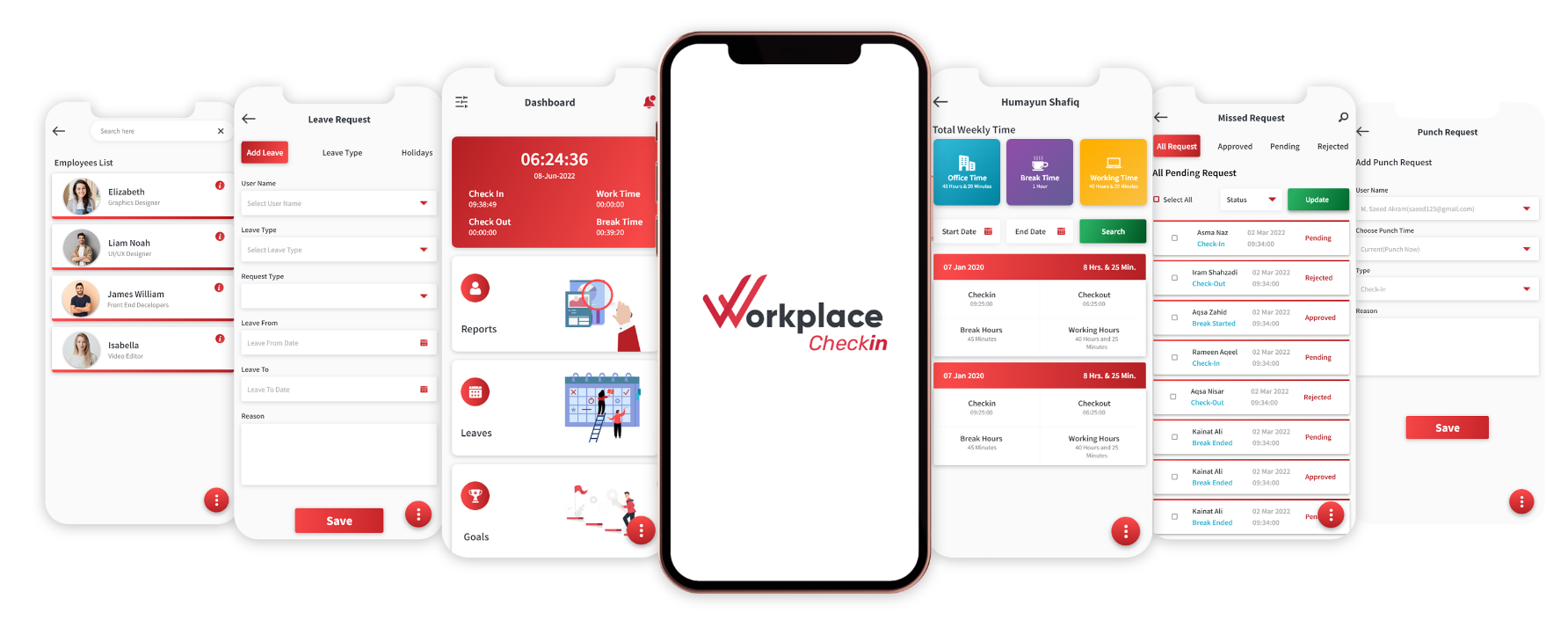 Automated Reports
No need to maintain timesheets on manual and endless spreadsheets. Manage employee attendance, tasks and track their work hours with the simple click of a button using Workplace Checkin.
For all kind of teams
No matter the team size, or industry; Workplace Checkin can be configured to suit your specific needs.

Role Based Features
Workplace Checkin provides role-based dashboards, delivering the right information at the right time.
Employee Tracking
With Workplace Checkin, employers can get a detailed outlook of their employees' time and work efficiency.

Email Notifications
Get notified with Workplace Checkin for all employee activity via email and push notifications.
Punch Requests
Check-in, check-out, breaks, all handled and reported intelligently by Workplace Checkin.
Attendance Report
Easily create reports to analyze your employees' work time with Workplace Checkin.
Leave Management
Handle leave requests with ease. Gain real time request tracking with Workplace Checkin.
Payroll Automation
Manage your payroll with ease. Workplace Checkin manages payroll of your employees automatically.
Event Management
Create the upcoming events in your organization and share with your team to keep them updated.
Focusing on you

Work Smart
Let Workplace Checkin manage your human capital so you can focus on othar vital tasks and work smart

Customer Support
24/7 customer support so you are always connected with our solution experts when you need them

Follow Us
Stay updated with the latest features and promotions on our social media
Flexible Plans
Affordable pricing for everyone! We want you to get the best deal!
Integrates with your tools
Workplace Checkin integrates with your existing tools, services, & workflow. Get notifications or create a story with other tools.
What our clients say

From small organizations to large corporations, Workplace Checkin can be extremely useful for managing employees, tracking their performance and much more. Simply an amazing management tool.
Ryan P. Yates
Former Assistant Jamuna Group.
Workplace Checkin is refreshingly agile and easy to use. A great application indeed which makes it easier for both companies and employees to track and manage their working routine.
David B. Havens
UI designer Baper Inc.

I just love the performance and flexibility that Workplace Checkin provides. I believe it is among the best employee management platforms available on the Internet today.
Gary D. Jeffries
Front-end coder HeloShape.