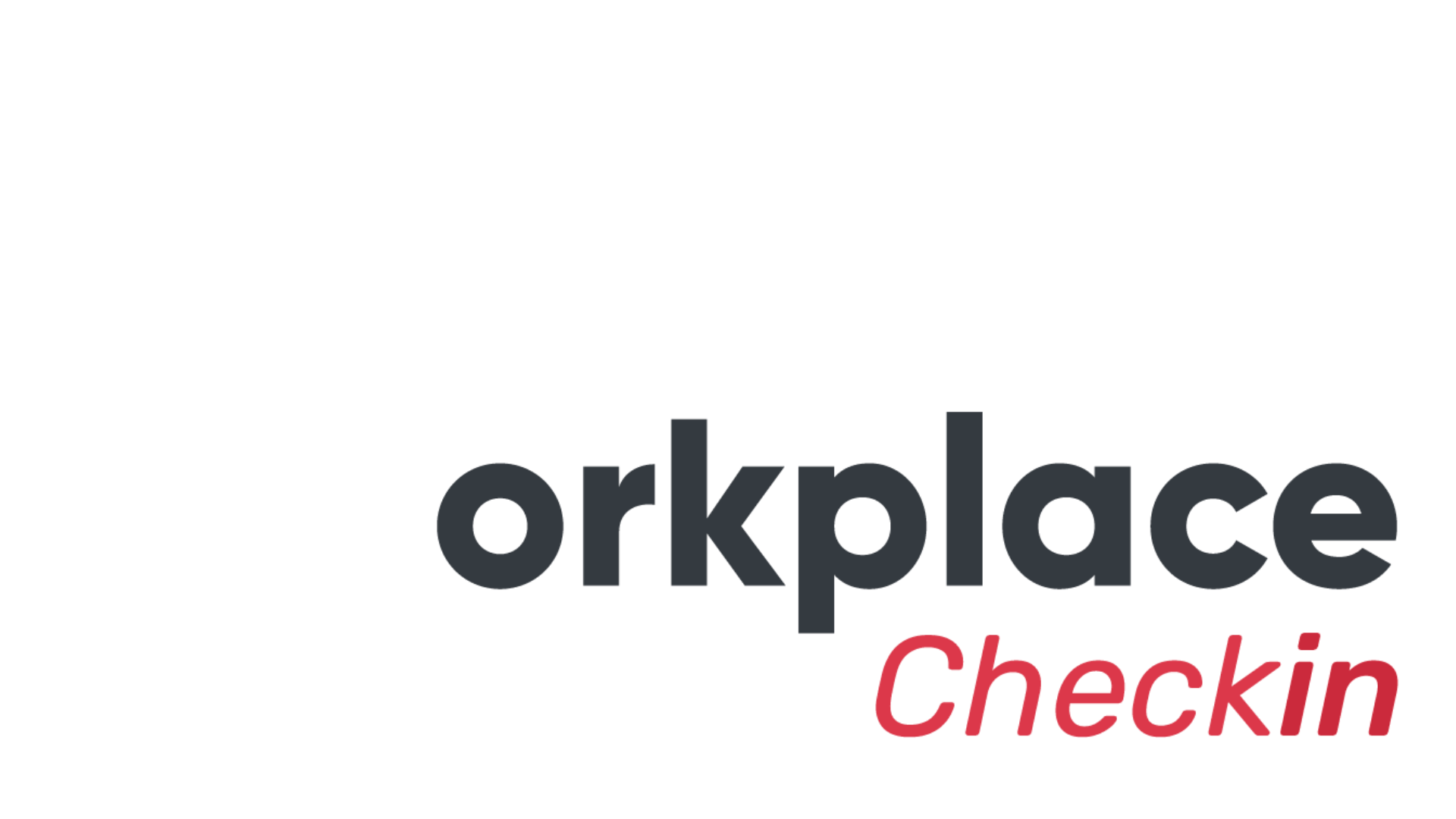 Posted on November 30, 2022
5 ways to set clear expectations for employee

What is Human Resource Management?
Human Resource Management
is screening and inducting new
resources
for hiring, selecting, and recruiting. After choosing any
employee
, HR must provide orientation and conduct relevant training and development.
Human Resources
is also responsible for appraising the
performance
of
employees
, taking care of
compensation
, and providing
benefits. Employee
engagement and succession
planning
also fall under the responsibility of the HR department. Moreover, managing office discipline, dispute resolution, and decorum while ensuring
employees
' safety, welfare and health measures in compliance with labor laws of the land. Finally, follow the Orders / Judgements of the concerned judicial or political authority.

Human resources management (HRM)
is integral to every business and
organization. Human resources managers
act as liaisons between
employees
and
management
.
Human Resource management
allows
employees
to contribute productively and effectively to the
company's
overall direction and the achievement of its goals and objectives. The department members offer the necessary knowledge, tools, administrative services, coaching, legal advice, and talent
management
oversight to ensure the
company's
success.
How does Human Resource Management work?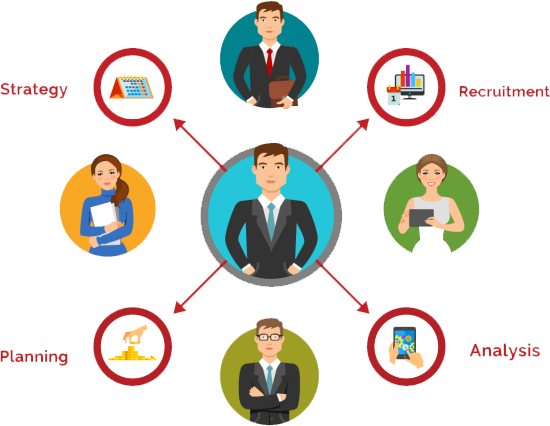 Over the years,
human resources management
has
developed
.
Human resource management
involves contributing to a
company's
strategic direction and using metrics for measuring efforts and demonstrating value.

HRM
members are partly responsible for ensuring that the
organization
has a shared vision, mission, and values. This provides
employees
with a reason to choose to
work
for the
company
. These elements can be inspiring and make
employees
feel like they are
part
of something bigger than themselves. Over the years,
human resources management
has
developed
. It involves contributing to a
company's strategic direction
and using metrics for measuring efforts and demonstrating value.

HRM
may also sponsor community and
employee
outreach. In addition, they serve as mentors to
employees
.
Line
managers
are also responsible for their teams' productivity, engagement, and contribution.
Managers
play an essential role in recruitment and can take full ownership.
Managers
are responsible for the retention and development of top
employees
.

HRM
is shifting away from traditional roles such as administration and transactional, which are becoming increasingly outsourced. As a result, it is expected that the
HRM
function adds value to the strategic utilization of
employees
and ensures that
employee
programs are recommended and implemented positively and measurably.
HR
employees
must help & protect their employer from lawsuits and workplace chaos.
Human resource management
professionals are responsible for managing legal documents, policies, and regulations. They also identify their
company's
relevant laws and rules and then find effective ways of educating
employees
and enforcing
company
policy.

HRM
is a partner or ally for
employees. HRM
focuses on
employee
development and protects
employees
against discrimination, workplace hazards, workplace harassment, unfair
compensation
, and other forms of discrimination. In addition, they must balance the needs of all stakeholders, including customers, stockholders, executives,
managers
, stockholders, owners, and
managers
.
The evolution of human resource management.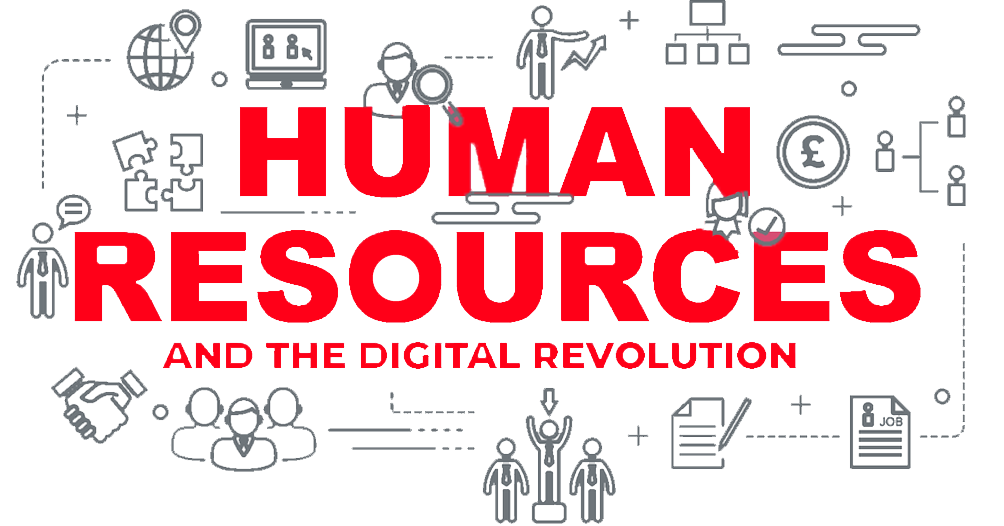 Human resource management
has
developed
from
personnel management
, an early
management
system employed to supervise
employees
. To understand the evolution of
personnel management (HR Management)
, it is necessary to look into the past centuries of study by great psychologists about
human
behavior and their
responses
to specific circumstances. One of these was Elton Mayo, a psychologist from Australia, who conducted many experiments regarding
human
behavior in different circumstances in 1924. He was a firm believer in the importance of balancing
work
and life to
increase the effectiveness
of the workforce, and the emphasis on
human
relationships influenced the efficiency of workers. In the end, they considered him the father of
human resource management
.
The phrase "
human resource management
" has been used extensively for the last 10 to 15 years. Before this, they commonly knew the field by the term "
personnel
administration." So, the name change isn't just a matter of cosmetics.

Personnel
administration, which was established as a distinct area in the 1920s (at least in the US), primarily focused on the technical aspects involved in recruiting, reviewing, training, and compensating
employees
and was a "staff" function in most companies. Instead, the field should have concentrated on the impact of various employment practices on general
organization
al
performance
or the connections that are a
part
of these practices. The field also needed a unifying framework.
They
developed HRM
as a response to the dramatic growth in competitive pressures American businesses were experiencing at the end of the 1970s because of factors like globalization, deregulation, and rapid technological advancement. These factors led to increased interest by companies to take
part
in strategic
planning
, which is a method that expects future changes in the conditions of the environment (the nature and degree of the marketplace) and aligns the various elements of an
organization
to
increase the effectiveness
of the
company
.
HRM stands for
Human Resource Management. (HRM)
or
personnel management
is the entire process that an
organization
undertakes to ensure the effective use of
employees
to achieve group, individual, and corporate goals.
HRM functions of organization
s focus on the people aspect of
management
. It comprises procedures that aid the
company
in managing its
employees
effectively throughout the different stages of the employment cycle, such as
pre-hire
, hiring, and post-hire. The
pre-hire
process involves
planning
processes. The business must decide on which types of jobs will be open in the coming period and decide on the qualifications needed to perform these tasks. During the hiring process, the
organization
chooses its
employees
. The selection process includes recruiting candidates, assessing their skills, and finally selecting the ones considered the best skilled.

Human Resources management
has evolved in the name at various times throughout history. Name changes were because of changes in social and economic activity throughout the course.


Industrial Welfare
Industrial welfare
is the initial kind that was a
part
of
human resource management (HRM)
. The factory act of 1833 declared that there should have inspectors of factories. In 1878, they passed legislation to regulate working hours for children and women, requiring an
average
of 60 hours per week. Trade unions formed. In 1868, they held the first annual trade union meeting. It was the first step towards collective bargaining. In 1913, the
number
of workers in the
industrial welfare
system had increased, so they held a conference arranged by the Seebohm Rowntree
organization
. The welfare workers' union was later renamed the Chartered Institute of
Personnel
and Development.


Recruitment and Selection
The story d began when Mary Wood engaged girls in the first
world war
. The 1st
world war
saw
personnel
development sped up because of government initiatives to promote the most efficient use of the people. In 1916, it was mandatory to employ an
employee
for welfare in factories that produced explosives and was promoted to
work
in factories for munitions. The army performed most of the
work
in this area. The military concentrated on testing the capabilities and IQ besides other studies of the
work
of
human
factors. In 1921, the national institute of psychologists was established and published research results regarding selection tests, interviewing techniques, and training techniques.


Acquisition of personnel from other activities
In the second
world war
, the emphasis was on recruitment and choice and training, increasing morale and motivation and discipline, security and collaboration, and wage guidelines. It meant that a department for personnel was required to be set up with trained and skilled staff.


Industrial Relations
The need for consultation between the
management
and the
employees
grew throughout the conflict. It meant that the
personnel
departments handled the
organization
and
management
. Safety and health and safety and the requirement for experts became the primary focus. Specialists were needed to handle
industrial relations
, and the
personnel manager
was appointed as the spokesperson for the company when meetings were held with trade unions or shop stewards. The sweltering climate of this time accentuated the importance of the role of a specialist in negotiating
industrial relations
. The
person
in charge of
personnel
had the power to negotiate agreements concerning pay and other issues related to collective bargaining.


Legislation
In the 1970s, US congress enacted
employment laws
, and
personnel functions
took on the form of expert advisors to ensure that
managers
did not infringe on the law and that the cases did not result in tribunals for industrial disputes.
Flexibility and diversity the 1990s saw a major trend in which employers sought to create more flexibility in the hours
employees
worked because of the increasing
number
of part-time and contract-based temporary agreements and the development of distance working. The workforce and working patterns are evolving and changing, meaning that traditional practices for recruitment no longer work. The year 2000 saw increasing internet use, leading to a 24-hour society. It led to new employment opportunities in e-commerce and a loss of jobs in traditional industries like retail. In addition, it created a greater opportunity for workers to
work
at their homes. The business must be able to be strategic about the issues that these developments bring.
HRM managers
' roles will shift as the changes happen.
Information Technology some systems in which IT assists
HRM
to include systems for e-recruitment, online short-listing of candidates, creating training strategies on the internet, Psychometric training; Payroll systems; employment information, recruitment administration references; pre-employment checks. IT can help HR
managers
delegate routine work, allowing them time to focus on difficult jobs. IT will also make sure that more data is available for deciding.
What is the purpose of Human Resource Management?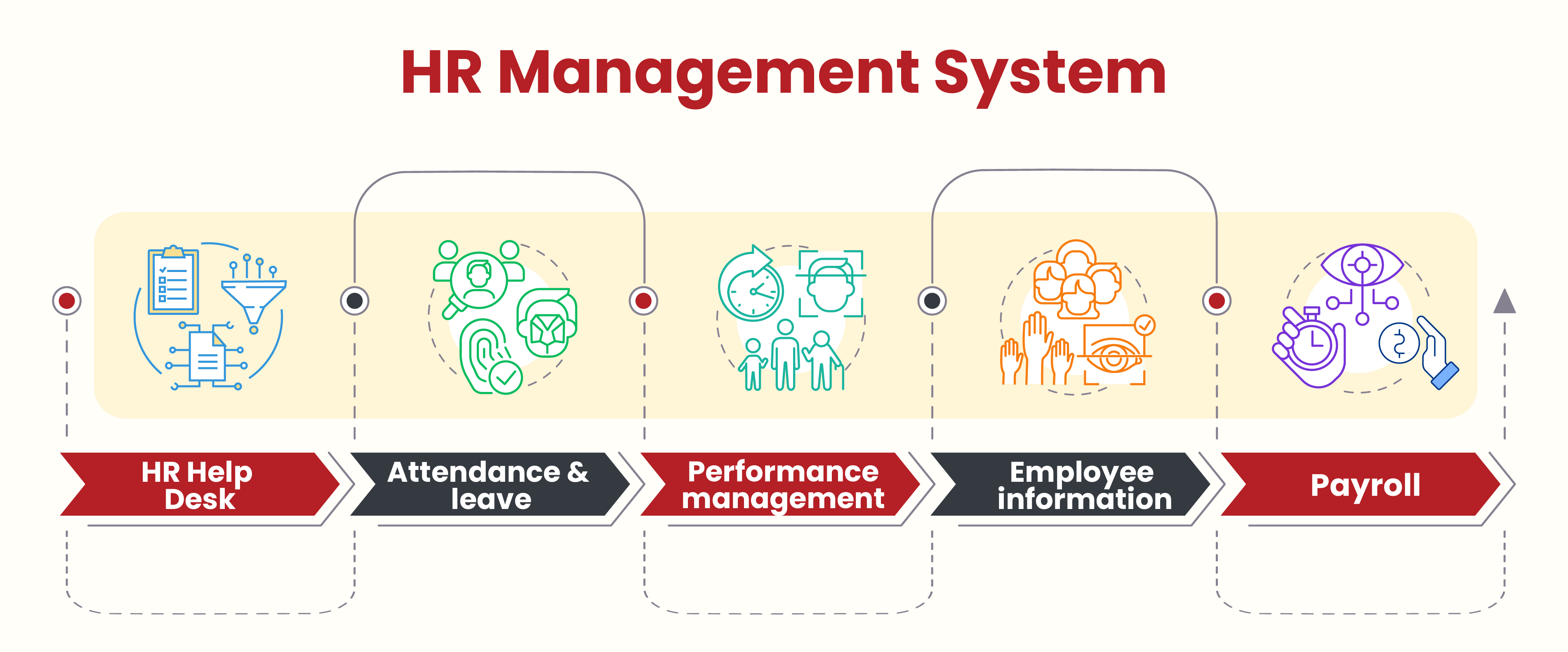 Companies focus on
HRM
to
increase
employee
satisfaction and
performance. HRM
, also known as
human
capital, recognizes the contribution and efforts of
employees
toward the
organization
s. Investing in
employees
can
increase
job satisfaction and help them succeed within the
organization
.
Employers who value their
employees
and give them support will be able to motivate and train them. These might include mentoring programs or tuition reimbursement, as well as on-the-job training to help
employees
boost their skills and productivity.
HRM
is designed to
develop
a skilled workforce,
increase
confidence and competence, and encourage
employees
to contribute to the
company's
success.

HRM
places a strong emphasis on
company
culture and job fulfillment. The culture where
employees
work
is a
significant
factor in motivating them. It can be challenging to quantify and measure
company
culture, but it is an integral
part
of
HRM
for recruiting and retaining
employees
.
What are the responsibilities of a Human Resource Manager?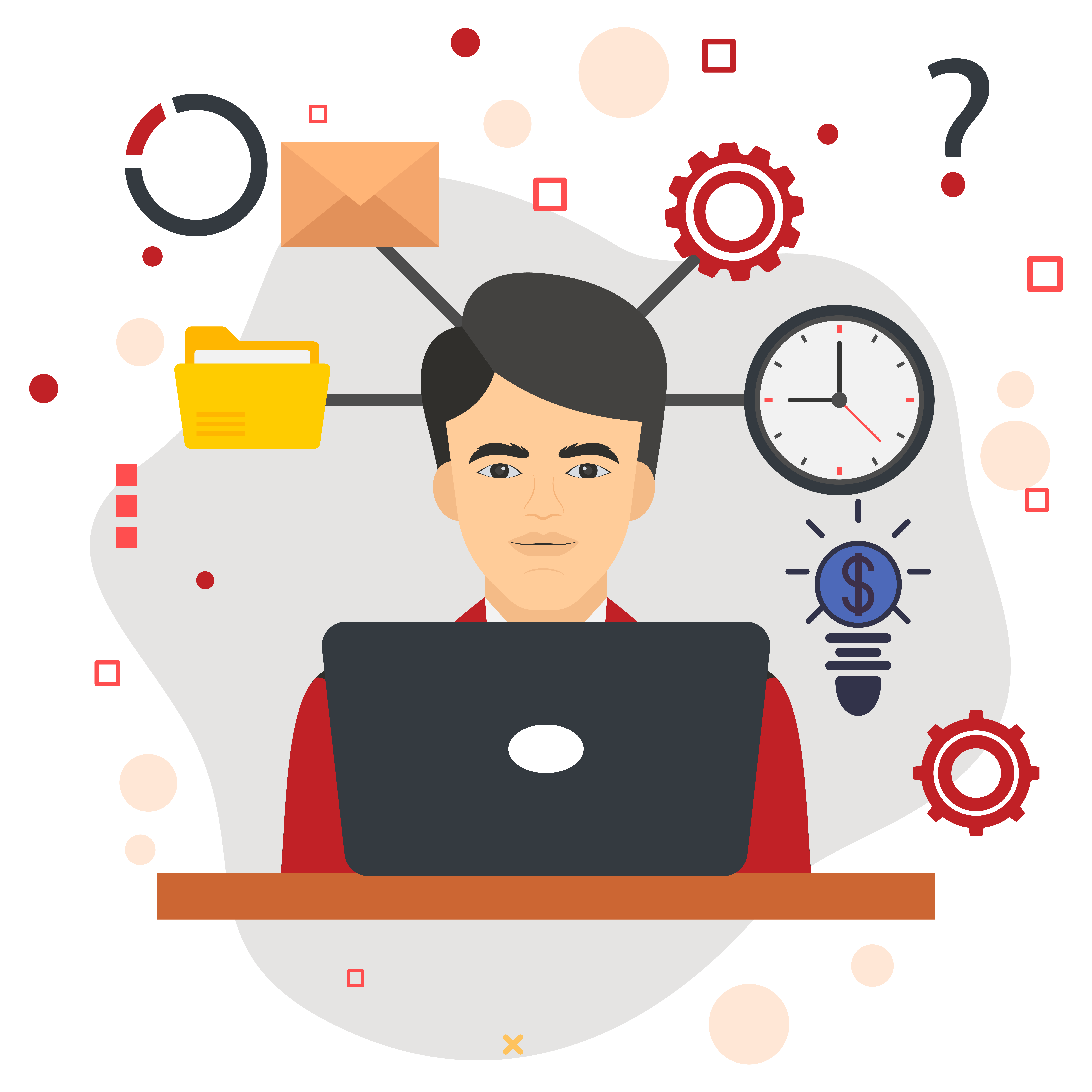 The primary responsibilities of HR professionals include the following:

1-

Management

of

employee benefits

,

compensation

and payroll.
2- Training and developing

employees

.
3- All

employees

should be made aware of policies and decisions.
4- On-boarding and recruiting new hires.
5- Create, track, and update

employee

records.
6- Disqualification of

employees

and enforcement of disciplinary actions.
7- Ensure that the

company

complies with all applicable

employment laws

.
8-

Management

must ensure that

employees

feel heard and valued by the

company

.
9- Investigating and addressing work-related harassment complaints.

Management

of

employee benefits

,

compensation

and payroll.

It depends on the size of the
company
, as well as the HR department, will determine which HR professional is responsible for each of these tasks. Sometimes, companies might choose to outsource some tasks, such as payroll and
benefits
, to outside
organization
s instead of doing traditional in-house HR work.
Human resource management
is a rapidly evolving field that will require more qualified professionals to
manage
the many complicated challenges businesses face while still maintaining
organization
al values and culture.
What skills are required to enter the field of Human Resource Management?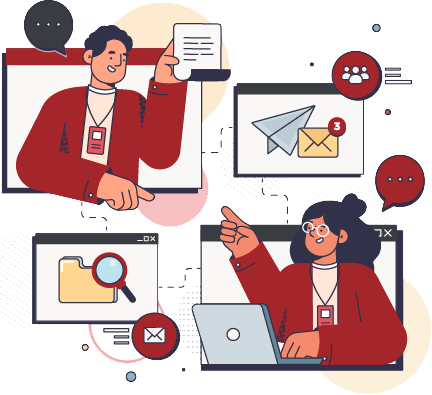 A bachelor's degree is usually required for those who want to
work
in the field of
Human resource management
. However, some employers may also look for candidates who have a degree of master's in business administration,
human resource management
, or labor relations. Although it is not necessary to have a certification of
HRM
to enter the field, It can help the applicant to stand out and may be required by some employers.
You will need the following skills if you want to pursue your career or break into the field of
human resources.
These skills include:


Communication
The essential skill for a
human resource manager
is communication. To
manage
daily tasks HR
manager
must have strong communication skills. You will be working closely with
employees
as an HR professional to ensure the smooth running of your business. This could include conducting interviews with potential
employees
, leading the on-boarding process, or resolving any conflict that might arise. It is vital to communicate effectively and interact with others, as the main focus of this role is people.


Collaboration and teamwork
You must also be a strong player in a team and can contribute to the success of collaborative efforts. You will need to collaborate with the HR team and the
employees
to achieve the
organization
's goals.


Technical aptitude
Many programs are used in this field for
functions
such as recruiting,
compensation, benefits
, and payroll. Therefore, professionals should have a working knowledge of the various applications used in their field and be able to adapt to new technologies.
Organization
and multitasking. It all depends on the
company's
size and how many HR professionals are on the team. There can be a lot to organize. However, it is important that you can keep everything in order and multitask if needed.


Problem-solving and conflict management
When there is conflict within a
company
, the HR department is often the first to intervene. It usually means coming up with creative solutions for
employees
' problems.